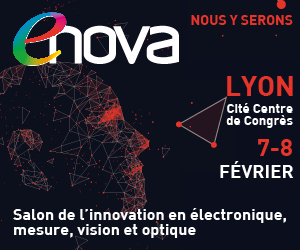 ENOVA Lyon - 7 y 8 de febrero de 2018
Business opportunity, sharing of knowledge and networking, the ENOVA shows federate all the actors of Research and Industry on the lookout for innovative solutions to support their digital transformation and their development projects.
To complete its annual meeting in Paris, and thus be closer to the needs of regional markets, ENOVA is available in the region with local salons.
The 2018 Tour de France will start next February in LYON, February 7th and 8th, for the third time to host this major event. It will continue with a second edition in TOULOUSE, on May 30th and 31st, and will end in PARIS on October 23rd and 24th.
Products of 4 technological universes:
Electronique / Production / Test / Components
Embedded systems/ M2M / connected objects
Measurement / Instrumentation / Metrology
Vision / Optical / Photonics
AN EXPECTED RENDEZ-VOUS AND ALREADY ACCLAIMED IN LYON
ENOVA in LYON is a promising 3rd edition with a growth rate and 85% of the show already booked with 110 companies already registered 3 months before its opening.
ENOVA is impressed by its positioning and format (innovative products and services, conferences, experience sharing and business meetings for all applications and uses) and is the benchmark exhibition for new technologies and business opportunities.
2 days of exhibition
3 000 m² hall
1 500 visitors
1 business meetings service
1 networking between visitors service
70 news
1 cycle of thematic conferences
A PROGRAM OF CONFERENCES WHICH FITS IN REGIONAL ECOSYSTEM
In partnership with the local institutionnal actors, conferences, round-table and testimonies will take place during 2 days, talking about 2 themes in the spotlight : AUTOMOTIVE AND MEDICAL
Cybersecurity,
Software bricks,
A.I for EMBEDDED,
Medical devices
etc.
ENOVA is supported by regional actors:
Cap'tronic, LCIE, Minéalogic, ....
A BUSINESS MEETINGS SERVICE FOR MORE BUSINESS
Organization of free and targeted business meetings between exhibitors and visitors, schedules entire management: the better way to gain visiting time and work with more efficency.
This programme allows to find new potential businesses and innovative solutions for the new projects of the visitors.
From 1st idea to manufactured product, including prototyping, tests and measurement, all technological bricks and associated services usefull to tomorrow innovation are in ENOVA from now.