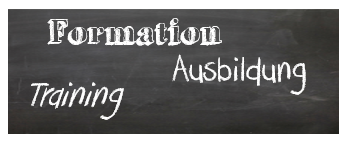 Predictive Image: Provider of training on acoustic microscopy and ultrasound
Take a look at our training topics in acoustic microscopy and ultrasound:
Diagnostics with ultrasound: How to?
Ultrasound images and their interpretation
Ultrasonic analysis tools: Acoustic microscopes and other ultrasound systems
Programming and operating acoustic microscopes
more...
Each training program will be adapted to the specific needs and the previous knowledge of the participants.
Training sessions can be provided in French, English or German language.
Predictive Image is registered as a training provider at the Prefecture of the Auvergne-Rhône-Alpes Region (registration number 82 38 05697 38). This registration does not mean appointment by the state, however it allows to provide training on the entire territory. Please contact your OPCA for details about financing these trainings.