About us
Predictive Image, a specialized lab in acoustic microscopy, 2D X-Ray radiography and 3D X-Ray tomography.
Our team of experts carries out analysis, always striving for Excellence and Quality. Our experience and know-how in NDT (Non Destructive Testing) can support all customers who value Quality as a strategic development goal.
We have a solution to your issues:
checking materials
interface analysis
Feel free to entrust our engineers - and their scanning acoustic microscope and X-ray equipment - with your devices.

Our mission: to ensure your Quality, Safety and Competitiveness.
Download our Quality Policy Statement and ISO 9001-2015 Certificate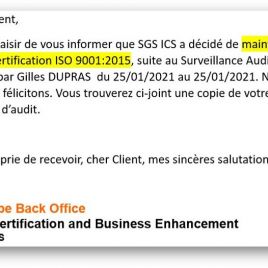 Very good beginning for 2021 with our ISO 9001:2015 certification renewed by SGS.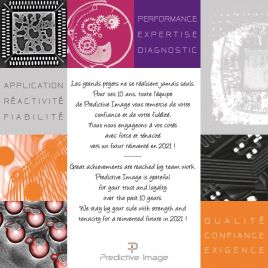 Predictive Image is 10 years old !

Great achievements are reached by team work.
Predictive Image is grateful for your trust and loyalty over the past 10 years.
We stay by your side with strength and tenacity for a reinvented future in 2021 !