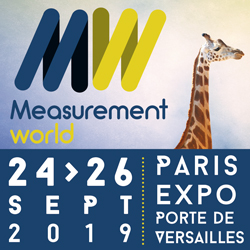 Measurement World | Paris | 24-26 Sept 2019
Meet us Booth C40

Measurement World is the new biennial European industry event – where your measurements reach new heights!
This new project – the creation of an exhibition dedicated to measurement in its broadest sense – will bring the industry together.
With its strong international dimension, this event will become the reference for the sector in Paris, every two years.
Held at the same place and time as the 19th International Metrology Congress (CIM 2019), it is the only European event for R&D and good practices in measurement and metrology.
The objective of Measurement World is to promote industry best practices, the scope of technological solutions and what measurement can offer – be it control, optimisation, productivity, quality, reliability or data enhancement, to name but a few examples.
Some figures:
5,000 sqm of floor space including a Metrology Village of 2,000 sqm

3 days of exhibitions

230 exhibitors

4,000 visitors

1000 participants from 45 countries in the 19th International Metrology Congress (CIM 2019)