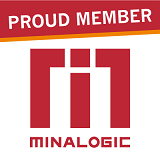 MINALOGIC
Global innovation cluster for digital technologies serving France's Auvergne-Rhone-Alpes region.
Minalogic was founded when the French government's competitive cluster initiative was first rolled out, in 2005.
Mission: Broadly speaking, Minalogic operates within the Auvergne Rhône-Alpes region's digital ecosystem. The cluster's initiatives target the unique niche where micro-nanoelectronics, photonics and software meet. Minalogic's goal is to stimulate innovation within this niche.
Objective: Minalogic's objective is to facilitate network-building between innovators, research centers, manufacturing companies, and financers so that they can work together effectively to bring the technologies born of collaborative R&D projects to market readiness and support the ensuing growth of the innovative companies that commercialize these technologies.