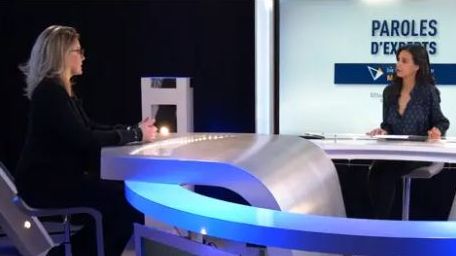 Words of Experts Predictive Image: Acoustic microscopy
Acoustic microscopy is an imaging and characterization method using ultrasonic waves, with frequencies that are generally high and can reach GHz level. It provides very high resolutions up to a micron. "Acoustic microscopy is a so-called "non-destructive"means of control. With this method, we can look inside parts and materials without destroying or damaging them. Often compared to the medical sector where ultrasound scans are performed to observe inside a human body, acoustic microscopy allows us to visualize the interior of materials" explains Isaline RICHARD, President of Predictive Image.

Created in 2010, Predictive Image is a service laboratory specializing in non-destructive testing, dedicated to all sectors and in particular those which use electronic components: aeronautics, automotive, medical or even space. "Thanks to acoustic microscopy, we detect very small defects in parts, often with high added value. In summary, our job is to be able to provide you with a precise diagnosis of the health of your materials, and the reliability of your parts, to solve your problems in assembly, quality control and failure analysis" explains our expert.

Acting principally at national level, Predictive Image also shines internationally: the company was indeed approached by ST Microelectronics as part of a European R&D project. "Twenty players were brought together in several working groups. Our main task has been, among other things, to produce a reference sample intended to be used on all acoustic microscopes and representative of future assemblies that are said to be "complex". Similarly to the medical sector, the most delicate in our work is the interpretation of images in order to make a diagnosis. With several years of experience on the subject, Predictive Image now has recognized expertise in this field, also intervening in counter-expertise at the request of its customers.

After 10 years working in this field, Predictive Image would now like to integrate a new, additional non-destructive expertise technology, into its laboratory. "In the short term, we would like to develop in further industrial sectors. It is true that to date, we work a lot with microelectronics but we know that acoustic microscopy also applies to other areas of activity such as cosmetics and luxury for example. In the longer term, we would also like to develop our own control tool, which would be complementary to the acoustic and radiographic controls that we already carry out.", concludes Isaline Richard.